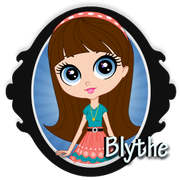 Blythe Baxter, an original Littlest Pet Shop Character (appearing also in the 1992 version of LPS) voiced by Ashleigh Ball
She is the main protagonist of the series, living with her father, who moved both to the Big City because of her father's promotion, an apartment above the Littlest Pet Shop, a 'day camp' for pets. There, she finds that she has an amazing and mysterious talent for understanding and speaking to animals, using it to usually talk to the animals at the Littlest Pet Shop, usually to save the day, like she did to save the Littlest Pet Shop from closing down.
Appearance
Edit
Blythe is a slender girl who appears to be in her teens, with long brown hair and blue eyes. She changes her clothes and hairstyle often, usually sporting a different outfit in nearly every episode. 
Personality
Edit
Blythe has a passion for sketching, and seems to have a dream of becoming a fashion designer. Although she seems to keep to herself at first, she is shown to be very friendly and kind, making friends rather quickly once moving to the city.  
She naturally seems to get along well with animals, as shown in her first appearance, helping a dog and squirrel. She quickly befriends the pets at the Littlest Pet Shop and tries to help them any way she can. 
Her voice actress, Ashleigh Ball, also provides the voices of Rainbow Dash and Applejack in My Little Pony: Friendship is Magic