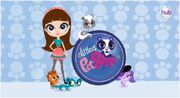 Littlest Pet Shop is currently a toy franchise owned by Hasbro; like the famous My Little Pony Friendship Is Magic,and Care Bears Welcome to Carealot, it has also its own show on Hub that is after an old generation of show/s. The original show started in the 1990s, by Kenner. There are and were a variety of toys and video games designed for the toys and old television show, and thus creating the newest generation of Littlest Pet Shop, on the Hub. This television series is animated by DHX Media's animation studio in Vancouver, Canada. Based on Hasbro's toy production line, it features the main character, Blythe Baxter, the pale girl wtih the dark brown, straight hair that, in a cartoon style, goes down to her waist. Her name is according to the old television LPS show's name, only her style is different; ex., the old Blythe had blond hair.
The television show first premeired on November 10th, 2012, back-to-back with My Little Pony: Friendship Is Magic Season 3's first episode. The show is developed by Timothy Cahill and directed by Dallas Parker and Joel Dickie.
The basic plot of this series is Blythe and her father, Mr. Baxter, moving to the Big City in the upstairs apartment of Littlest Pet Shop, a suposed day-camp for all kinds of pets (only currently featuring six). Her adventure begins when she finds she can talk to the six pets, discovering their unique personality traits and talents. When the pet shop is closing, the pets turn to Blythe to help save it.
Roger Baxter (voiced by Michael Kopsa) is Blythe's Father who alongside her moved to the apartment right above the Littlest Pet Shop. He is an Airline Pilot and is very supportive to his daughter. Though he's also being a klutz when it comes to being a handyman.
Mrs. Twombly (voiced by Kathleen Barr) is the owner of the Littlest Pet Shop and a close friend of Blythe. She has a huge liking to animals but sometimes very quirky, thought she loves what she does. She has a hobby on collecting very rare door knobs.
Whittany and Brittany Biskit (voiced by Shannon Chan-Kent) are two rival twin sisters who dislike Blythe
Gail Trent (voice TBA) is Zoe's sister
Characters and information gathered from Wikipedia.