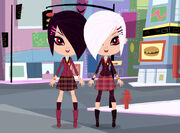 Brittany and Whittany Biskit are two twins who are antagonists in LPS. They are the first antagonists, since they appear in the first episode when Blythe is getting ready her things to move into the apartment, and she says 'No' to them about shopping for new clothes, since the twins had both criticized her outfit. They are the twin daughters of Fisher Biscuit, who was voiced by Samuel Vincent.They are also very rich and have a butler and winter chateau which feature in season 3
Appearance
Edit
They have a stereotypical 'emo/goth' style, with black and white hair covering one eye. The twins also have reddish eyes, that give to the menacing expression. They are caught in the first episode wearing supposed school uniforms.
Brittany's hair is white, while Whittany's is black. Brittany's hair covers her right eye, while Whittany's covers her left. both of the twins wear brown lipstick all the time and at bakers are fakers they were using them to make a chart  
Some fans or parents whom are Punks Rockers themselves may not be happy of Hasbro making Goths and Punks look like the bad guys. It may have something to do with Hasbro's rival Mattel's very popular Gothic dolls Monster High.
Though they dress like Goths and Punks but their outfits are very similar with Scene fashion.
The Biskit twins act and dress like the Werecat Twin Sisters from Monster High.
The Biskit twins look like the twins, Tsubaki and Azusa, from the anime, Brothers Conflict.